Sleigh, what? It's Winter Wonderland Time!
Updated: Feb 2, 2022
'Tis the season for our Winter Workshops, special holiday hours, and more! If you're looking for a fun date night or group gathering for your visiting guests, family, and friends, check out our Trivia Night: Holiday Edition on December 17 from 6-8 p.m. This event is for ages 21 and up only. We'll serve snacks, beer, wine, and soda at this event. If you consider yourself a holiday trivia buff, don't miss this event, or yule be sorry. Head over to the events page to grab your tickets now! We accept teams of up to 6 people, and the winners will receive a gift certificate to the center, just in time for the perfect stocking stuffer. If you're looking for fun holiday trivia to entertain with at home and for the kiddos, check out our trivia quiz below!
Fun for ALL ages, our special hours start on December 20 so we can properly kick off winter break. We'll be open from 10 a.m. to 3 p.m. for general admission guests. Be sure to check out our Creature Feature at 11 a.m. during your visit. Space is available for the Creature Feature on a first come, first served basis, so be sure to grab your seats in time for the show.
Can't make it on the 20th? No worries--our Winter Workshops officially kick off on December 21 and run through the 23. The museum is open from 10 a.m. to 3 p.m. with our special workshops running from 10:30 a.m. to 1:30 p.m. Guests can expect a new hands-on activity each day, all included with general admission pricing. This means all current Science Center members get in for free to enjoy all our winter games and activities. See the schedule of events below!
DECEMBER 21: CHEMISTRY CORNER
Oh Chemis-tree, oh Chemis-tree! Join us for a very special Holiday Chem Demo at 10:30 a.m. followed by your own chance to become a very Merry Mad Scientist and make your own melting snowman from 11 to 11:30 a.m. After Chemistry Corner, hop on over to play winter games on the sciPad from 11:30 to 1:30 p.m., open for all to enjoy!
DECEMBER 22: OPTICAL ILLUSIONS
You'll be seeing double the fun from 10:30 a.m. to 12:30 p.m. during Winter Workshops. Discover holographic glasses that mysteriously transform ordinary lights into a holiday surprise for the eyes, and be sure to check out our optical illusion station. You can also write you very own holiday greetings or wish list using our invisible ink (don't worry, Santa's magic helps him read it). Then play sciPad winter games for all from 12:30 to 1:30 p.m. today.
DECEMBER 23: HOLIDAY CIRCUITS
Let there be light! From 10:30 a.m. to 1 p.m. you can make your own light up holiday card to take home then play with our Squishy Circuits. Will you create a holiday tree, candy cane, or ornament to light up with our special conductive dough? 'Tis the season to get crafty! At 1 p.m., join us for a Holiday Creature Feature with a very special guest.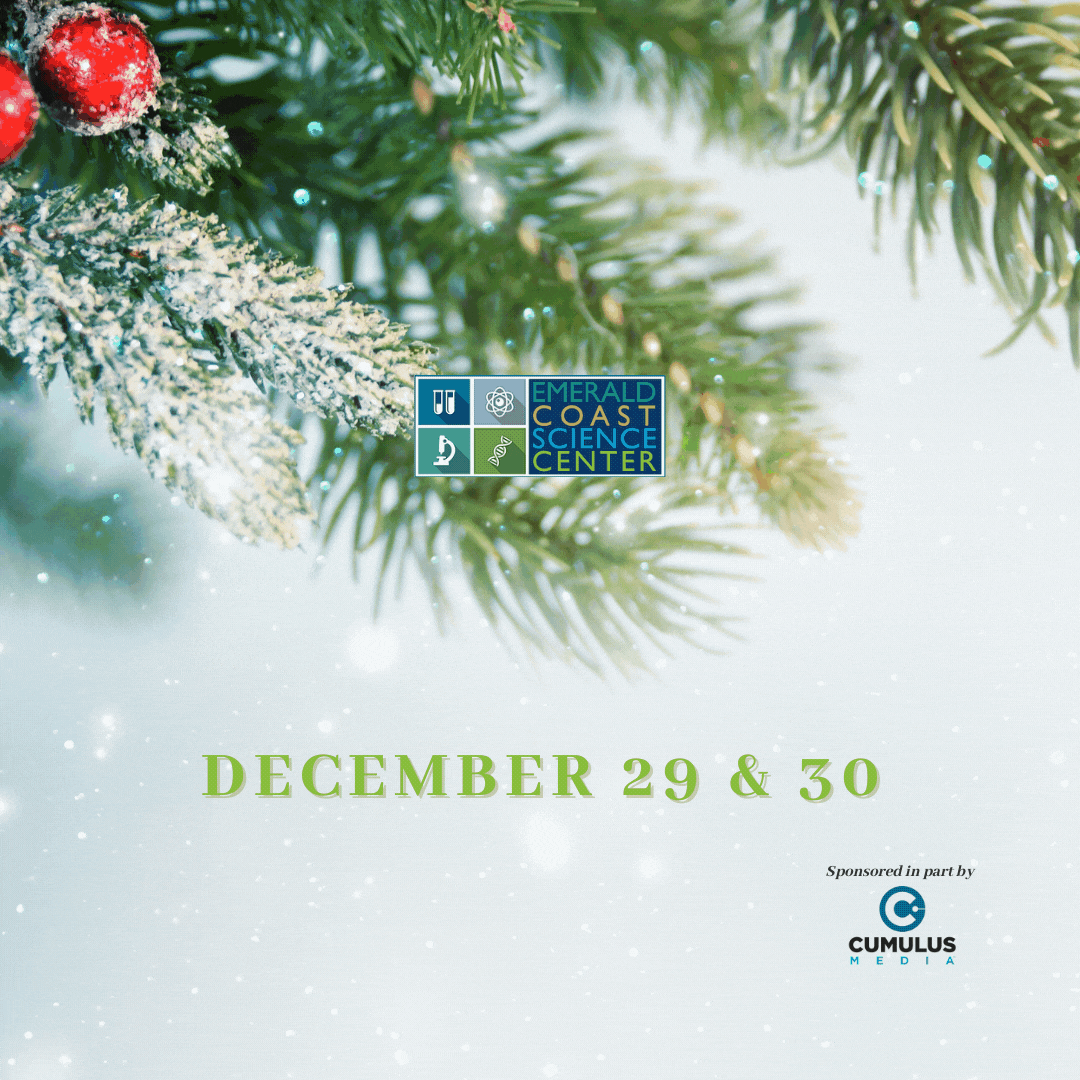 While the museum will be closed on December 24and 25, we will return for more winter fun on December 29 and 30. On both days, stop by our Creature Features from 12 to 12:30 p.m. Then dash over to join in on winter games from 1 p.m. to 3 p.m. on the sciPad, and enjoy the rest of the museum from 10 a.m. to 3 p.m. each day. You snow the drill, all activities included with general admission, and space for the Creature Feature is available on a first come, first served basis.
The museum will be closed on December 31 and January 1 for the New Year holiday. We hope you all have a wonderful holiday season, and we can't wait to ring in 2022 with all of you! We have so many wonderful activities, new exhibits, and surprises in store.
Are you a holiday hero? Share our holiday trivia with your friends, family, and see who knows a little Claus and effect best...